Matt Daura 1925-2010
Matt Daura passed away at St. Lukes Hospital in Houston at 2pm Friday the 22nd of January, 2010.
There are different kinds of photo club people. There are those who are flashy about their photography and make a big show of entering the most photos in every competition and wanting everything the club can give them, but contributing little to the operation or success of the club, because they "don't have the time". Then there are a very few people like Matt, who are always quietly doing the things that have to be done, but which are without sufficient volunteers. People who contribute to the club without concern about how much they get back.
Matt was always there. If there was a meeting with no one volunteering to bring snacks, there is Matt with a Tupperware tub of cookies. A few years ago, when digital was new and the club was short on funds, Matt stepped up and bought the club a digital projector. Did he ask for anything in return? A medal? A trophy? Even dues exemption? No. He even objected to mention of the fact that the "club's" projector was thanks to his generosity.
Through all of this, Matt managed to take a few photos now and again. No, he didn't enter sixty or eighty or so possible competition photographs each year. He entered just a few. I guess, unlike those too busy taking photographs to help the club, he was too busy helping the club, to take so many photographs. Yet, virtually every year-end competition included a Matt Daura photograph among the winners.
Matt's willingness to pitch in and do what was needed was not limited to Houston Camera Club. The Gulf Coast Camera Club Council and Photographic Society of America also counted Matt as one of the few who all knew they could count on...and did so for many years.
Near the end, Matt was unable to drive, so friend and fellow club member Ross Gore drove Matt lots of places, including to Galveston for some sunset photography. Below is Matt's last photo.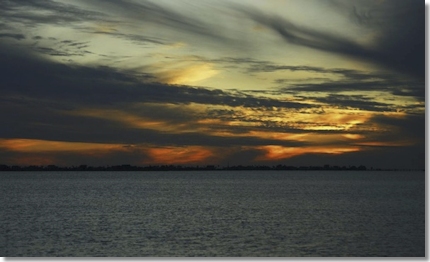 Gwen Kunz remembers: "There's no doubt about it. Matt did a lot for the club. I have known him since 1971. When he was president (the first time) the club membership reached a peak of 142 in 1976 under his leadership (see club history in the Directory). He was President of the Houston Geological Society and worked for Transco as a geologist. After his mother closed her grocery store, he would bring the drinks left over in inventory to the club meetings. They seemed to last a long time. One time he rented a bus at his expense for one of our field trips-a 40 seater and it was full. He grew tomatoes and would share them with members."
Denny Moller: Matt Daura served as editor of the GSCCC News for 33 years, from July 1973 until he put out the December 2006/January 2007 issue. Matt also served as the editor of the HCC Rangefinder from September 1989 until he put out the January 2010 issue.
Ross Gore: On Thanksgiving Day 2009 I had taken Matt down to Santa Fe, Texas to have dinner with his relatives and after we had all eaten and visited for several hours it was time for us to head back to Houston. The assignment for December was Sunrise/sunset and I knew that he had not taken a photo so I asked him if he would like to go down to Galveston and catch the sunset, to which he said yes. We got there just before sunset and found an open area across from Moody Gardens and we waited for the sun to go down. He was not able to get out of the truck so I rolled the window down and this is the last photo he would ever take.
Adam Kincher: The members of the Greater San Antonio Camera Club send their condolences to your club for the passing of Matt Daura.
Ruben T. Barrera: I would like to extend my condolences to Matt's family and to the Houston Camera Club. When I was newsletter editor for the Corpus Christi Camera Club back in the 1980's through the 1990's Matt helped me immensely. As my newsletter improved he encouraged me to enter the PSA Newsletter Competition. When I did submit, in the small club category, I was fortunate enough to place and to even recieve a Third Place in one of the newsletter competition. He even came down to Corpus Christi to attend our camera club meeting to present me with the award. Without his encouragement our club's newsletter would not have been the quality publication it was. He was a great friend and a great photographer.
Ruben T. Barrera
Corpus Christi Camera Club