Denny D. Moller 1922-2013
Denny Moller passed away on Saturday the 21st of September, 2013.

Services will be held on Friday, October 11, 2013 at 2pm at St. Martin's Episcopal Church at 717 Sage Road, Houston, TX 77056. There will be a reception following. The family has requested that a donation to a charity in memory of Denny be made in lieu of flowers, with the specific charity to be named.

Also see the Houston Chronicle.
----------------------------------------------------------------------------------------------------
Denny was a friend to everyone at the Houston Camera Club. It was always fun to talk to him, no matter what the subject – whether photography, an up-coming activity of the club, or his service during WWII. Denny also enjoyed talking with visitors to the club, and he made them feel welcome. We remember Denny for his active participation in the club's activities. He attended most field trips and was always at the shootout with the San Antonio club. He worked continuously for the club, as its representative to GSCCC and PSA, and as an officer of our club. We will miss Denny, and will work to keep his spirit alive.
--Leslie and John

I remember Denny most for his wry humor and his being the consummate gentleman and an excellent administrator when it came to anything in the club. In recent years, we enjoyed traveling to HCC field trips together.
--Gwen

Knowing Denny for over 30 years, it was such a pleasure to work with him at Houston Camera Club, GSCCC when he was Competition Vice President, chaired or co-chaired the GSCCC conventions when they were in Houston, PSA doing judging of images and at the convention when it was held in Houston some 20 years ago. He was a gentleman all the way, never viewed anyone or anything in a negative way, and a great loss for photography in general.
--Joe

I've known lots of members of Houston Camera Club over the last ten years. There have always been many who were eager to take advantage of all the club has to offer. And then there was a much smaller group--made up of people like Denny, who was always ready to do whatever he could for the club. Denny was soft spoken and quiet, but he had humor, knowledge and wisdom to share, so I always listened closely when he spoke. I'll miss him.
--Bill

We wish to extend our heartfelt condolences to you all, as well as members of Denny's family, on his passing. You have lost a valuable member and friend and so have we. Denny was one of the people we always looked forward to seeing at the "shoot-outs" and following luncheon. He was always the perfect gentleman, with a quick wit and smile on his face. It was a pleasure to have known him and he will be missed.

You surely have our deepest sympathy.

--John and Pinky Rudolph

, San Antonio Camera Club

Denny Moller was a member of VC 55 on the CVE-21, and he flew both the Grumman F4F Wildcat and the TBM Avenger*. He was on Board when the Block Island was sunk on May 29, 1944. He was picked up the the USS Paine. He was a delight to interview. He once said to me about his WWII experiences that "it was so long ago that sometimes it seems like more of a story we have read rather than events that we actually participated in." Again, I am sorry for your loss.

--Jim Noles, Air and Space Magazine

There are so many of us in the Block Island Association who have been sadden by the news of the passing of Denny. It was only three years ago that I finally got to meet Denny. As webmaster I had assembled historical information that included information regarding Denny for a number of years and I was quite excited to meet him once I heard that he would be attending the New Orleans reunion. It was great to see him and my wife and I joined him for dinner on two different nights. This year's reunion was in Pensacola and I was pleased to hear that he would be coming. He immediately sought me out and told me how sorry he was to hear of my wife's passing. He was always a great person and had a classiness about him that I wish I could emulate. I introduced him to my finance and he was charming of course and immediately won her over.


--Jack, USS Block Island Webmaster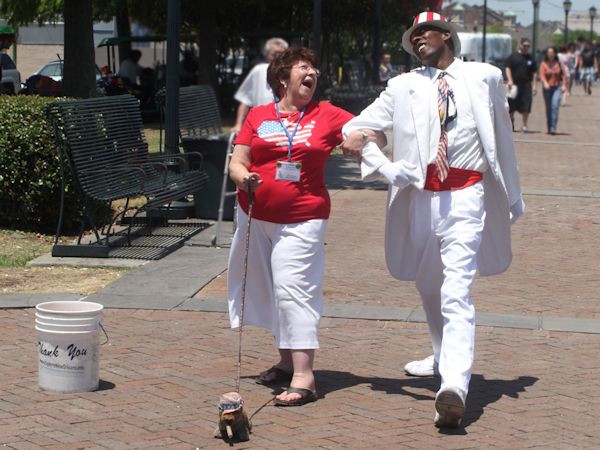 Among the many things Denny did for HCC over the years, he handled interclub photojournalism competition photos, and not surprisingly, he was an excellent photojournalist himself.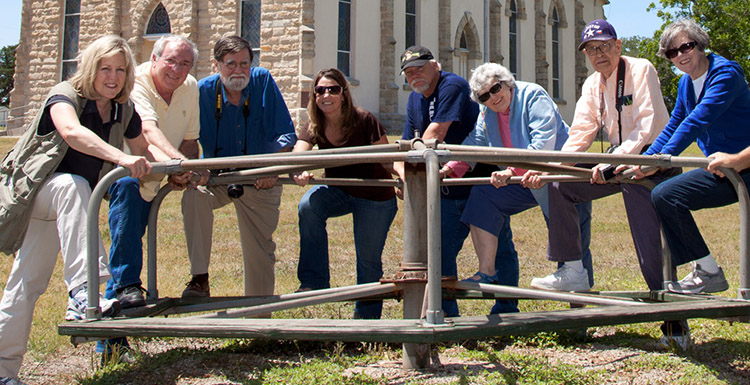 Denny (2nd from right) with fellow HCC members at St. Mary's Catholic Church in Praha, Texas during Painted Churches outing.
*The Grumman TBM Avenger that Denny flew is the same flown by former vice president and president George H.W. Bush in WWII. You can read this account by Bush and his crew to get an idea of what Denny's experience was flying the same plane from a similar carrier, here.